Sarasota Fishing Charters (Inshore and Offshore)
We fish the shallow backcountry waters in and around Sarasota Bay, and the inshore reefs of the Gulf of Mexico.
From top left to right: Capt. Bruce Burkhart, Capt. Terry Simmons, Capt. Ed Hurst, Capt. Rick Grassett. Middle row: Capt. Kevin Wessel, Capt. Andy Cotton, Capt. Merrily Simmons, Capt. Brandon Naeve, Capt. Kelly Stilwell. Bottom row: Capt. Jeremy Lee, Capt. Jeffri Durrance, Capt. Kelly Kurtz.
The fishing charter service you choose could mean the difference between catching the big one, or telling a story about the one that got away.
At C.B.'s Saltwater Outfitters, our veteran guides will do their best to make sure your stay in our Sarasota, Siesta Key area is memorable. Let us arrange an exciting trip to the shallow water backcountry to sight fish for snook, redfish, speckled trout and other species, or fishing trips to the inshore reefs of the Gulf of Mexico for giant tarpon, bonito, cobia, tripletail, jack crevalle, kingfish, Spanish mackerel. Fly and Spin fishing for all ages.
CB's Charter Captains
Capt. Bruce Burkhart
Bruce is a Florida native and has lived in Sarasota for thirty years. Capt. Bruce grewup on the east coast of Florida and started fishing with his dad when he was about six years old. Fishing has been a lifetime passion of his. In 2001 he obtained his United States Coast Guard captain's license becoming a professional guide.
Capt. Bruce enjoys fishing Sarasota Bay for redfish, trout, snook, black drum and other species. His favorite fish to catch is the redfish and fishes local redfish tournaments. He fishes near shore in the Gulf of Mexico for kingfish, mackerel, tunney and tarpon. Tarpon season keeps him quite busy and when he is not guiding he is out trying his luck at boating a "Silver King." The tarpon is his favorite sport fish.
He enjoys taking out anglers of all ages and particularly loves to teach the younger ones how to fish and give them that first experience they will never forget. He was raised fishing and so was his son and feels that the sport instills patience and respect for our fisheries and environment. He has served on the board of the Coastal Conservation Association for about eight years and currently serves as Tournament Director for the annual CCA Spring Tournament.
Capt. Bruce is owner of Casual Lies Fishing Charters and operates a Triton 22 LTS with a 200hp Mercury. Any day on the water is a good day for him and he feels very fortunate to be making a living doing what he loves to do the most.

Capt. Andy Cotton
Capt. Andy loves fly fishing and light spinning tackle with artificial lures. He fishes out of an Action Craft 1720 flats skiff rigged with the latest electronics and outfitted with Orvis fly equipment and Shimano spinning tackle. Fishing a flats skiff allows the captain to pole and access to the surrounded shallow waters for fly and lure anglers.
Capt. Andy is the owner of O'Fish All Guide Service.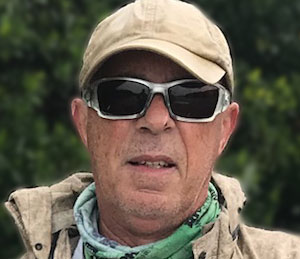 Capt. Chuck Cress
Fishing has been a lifetime passion and for me teaching others the joy of fishing is very rewarding. Depending on the skill level of my clients what I like to do is put them on big fish using artificial lures. That being said I can take out a first-time angler or young person and watch the thrill of them catching a nice fish using a live shrimp and bobber.
I also like to educate and pass on my knowledge of local history and the many sights the area has to offer while we are on the water.
Capt. Chuck is the owner of Let's Get Em' Fishing Charters.
Capt. Jeffri Durrance
Captain Jeffri Durrance is a fourth generation Florida native growing up in Bowling Green, Florida, which is located in Hardee County. Growing up in a cattle and citrus operation Jeffri fished many creeks and lakes in the central Florida area as well as the Peace River. Each year the family would spend some time on the coastal areas from Anna Maria Island down to Sanibel Island, which gave Jeffri a taste of saltwater fishing that would later become a regular part of his life.
Upon completion of college in Texas, he returned to Florida landing in Sarasota where he taught animal science for 16 years and is currently retired as an administrator for Sarasota Schools after serving over 31 years in the district. In Sarasota, Jeffri has served the community in a wide variety of areas, which include five years as president of the Sarasota County Fair Board and 22 years as chairman or co-chairman of the Sarasota Tarpon Tournament (the world's oldest tarpon tournament).
Jeffri earned his Captains license in 1985 providing him the opportunity to take many individuals tarpon fishing which he used for summer employment while "off for the summer" as a teacher.
Retiring in June of 2009, Jeffri became a full-time fishing guide running a charter business on his 23ft SeaCraft open fishing boat on the waters in and around Sarasota Bay. Jeffri has also been fishing the Southern Kingfish Association circuit successfully since 2004, qualifying for the SKA nationals each year fished since 2004 and was inducted into the Southern Kingfish Association Hall of Fame in 2017.

Capt. R.C. Gilliland
R.C. is very laid back and easy going. He loves fishing, hunting, and just about any outdoor activity you can think of. R.C. is a licensed Charter boat Captain who likes having a good time and hates drama. He has a wide variety of friends and gets along with just about everyone. By the way, did we mention he love to fish?

Capt. Rick Grassett
Rick, owner of Snook Fin-Addict Guide Service, Inc., is a full time fishing guide and outdoor writer based in Sarasota, FL. He's been guiding since 1990 and is an Orvis-Endorsed fly fishing guide here at CB's, which was the Orvis Outfitter of the Year for 2011, on Siesta Key FL.
He is also a Federation of Fly Fishers Certified Instructor and an instructor at the Orvis-Endorsed Fly Fishing School at CB's Saltwater Outfitters. Specializing in fishing with flies and lures on light spinning tackle, he fishes the bays, back country and coastal gulf waters of Sarasota Bay, lower Tampa Bay and Charlotte Harbor in his 17' Action Craft flats skiff.
Destination fishing trips are another specialty of Snook Fin-Addict Guide Service. Capt. Rick has lead groups of fly anglers to remote fishing locations around the world. He hosts trips to Andros South bonefish lodge in the Bahamas and Crane Meadow Lodge, MT in the spring and fall every year. He has also hosted several groups to Los Roques, Venezuela and Turneffe Flats Lodge in Belize in the past.
Capt. Rick is a field editor for Saltwater Angler magazine and a columnist for TBO.com. He has been featured in articles by other writers in Florida Sportsman, Saltwater Sportsman, Sportfishing, The Fisherman and Fly Fishing in Saltwaters magazines.

Capt. Ed Hurst
Sarasota has been my home since 1956. I have fished the area waters since I was nine years old. My fishing career began in the late 1970's. I chartered offshore mostly until 1990 when I bought my first inshore guide boat.
From 1995 until now I have guided anglers exclusively in the backwaters of the Sarasota area. Fly fishing is my passion and I'm an Orvis Endorsed Outfitter Guide. I enjoy guiding clients of all skill levels. Clients who don't fly fish are welcomed aboard as well.

Capt. Kelly Kurtz
Captain Kelly Kurtz is a Sarasota native, who is the owner of Mangrove Charters. He has been passionate about fishing and hunting all of his life. He is a full-time fishing guide and operates out of a 22ft Bayscout. He specializes in light tackle using both artificial and live bait.
His favorite fish to pursue is the redfish.
Kelly operates a kid-friendly business and will accommodate clients of all skill levels. He is a father that understands both fishing and kids require a great deal of patience, and will take the time to assure his client(s) a fun and educational time on the water.

Capt. Brandon Naeve
I have been a fishing guide in the Sarasota , Boca Grande area for 25 years! My Sarasota trips are mostly family oriented 1/2 day fishing trips involving kids who love to catch all the family fun fish, bluefish, trout, lady fish, snapper, pompano and many more!
My Boca Grande trips are for the more experienced spin or fly fishing angler with 30 sq miles and 110 islands of wildlife sanctuary a full day passes in the blink of a eye!

Capt. Terry Simmons
Terry was born and raised in Bradenton, Florida. He became a licensed fishing guide in 2000 and guides clients to fish on Sarasota Bay and the Gulf of Mexico using live bait, artificial lures and some fly fishing aboard his 22' Bay Ranger.
He is a full-time guide who loves tarpon fishing but any of our seasonally available fish should be wary of the hook. His boat can fish up to 4 anglers and families with children will enjoy his fun sense of humor.

Capt. Kelly Stilwell
Kelly moved to this area from the Midwest in 1984 and started enjoying the wonderful fishing immediately. Looking for a change from the construction industry he started guiding in 1993. Kelly started his fishing charter career using an 18' flats boat concentrating on shallow water artificial bait, fly fishing, and tarpon charters.
Recently he's moved up to a larger fishing platform, a 2400 Bay Ranger which works great for the flats of Sarasota Bay, tarpon fishing off area beaches, as well as the nearshore gulf opportunities available locally.

Capt. Merrily Simmons
Captain Merrily Simmons is a Florida native, and was raised in Manatee County. Fishing with her Dad at a very early age gave her an appreciation of the outdoors. She started her guiding career in 1992 shortly after becoming a manager for a Sarasota fly fishing outfitter.
Merrily has fished in the IFA, FLW and Oh, Boy Oberto professional redfish tournaments as well as the Sarasota Sportfishing Anglers' Club Tarpon Tournament, the IWFA Islamorada Light Tackle Tournament and the IWFA Louisiana Reds & Specks/SLAM Tournament for many years and has placed either 2nd or 3rd in several and accomplished a longtime goal in winning the IWFA LTT in 2007 and in 2005, with teammate Capt. Terry Simmons, placed 4th in the Oh, Boy Oberto Redfish Cup out of Chalmette Louisiana.
She enjoys taking anglers of all levels and especially families with children who are just learning to fish. She prefers using artificial lures, jigs and plugs on light spinning tackle, as well as flies on fly fishing tackle but also uses live bait when needed. Through CB's Saltwater Outfitters, she has held many ladies fishing clinics. Most of the women she has introduced or re-introduced to fishing have become accomplished anglers and friends.

Fish Known to be Caught in Our Area
Light Tackle Fish Species
Bluefish, Bonito, Cobia, Jack Crevalle, Kingfish, Ladyfish, Lane Snapper, Mangrove Snapper, Pompano, Snook, Spanish Mackerel, Speckled Trout, Tarpon, Tripletail.
Flat Fish Species
Bluefish, Cobia, Jack Crevalle, Ladyfish, Mangrove Snapper, Pompano, Redfish, Snook, Speckled Trout, Tarpon, Tripletail.
Offshore Fish Species
Barracuda, Blacktip Shark, Bluefish, Bonita, Cobia, Dolphin, Gag Grouper, Greater Amberjack, Hammerhead SharkJack, Crevalle, Kingfish, Lane Snapper, Lemon Shark, Little Tunny, Mangrove Snapper, Nurse Shark, Permit, Tarpon, Tripletail.
Note: Florida Fish and Wildlife Conservation Commission Regulate the taking of certain saltwater species by species, minimum size limits, closed season and daily bag limit.
Months marked X below are Open Season.
SPECIES
FEB
MAR
APR
MAY
JUN
JUL
AUG
SEP
OCT
NOV
DEC
JAN
Bluefish
X
X
X
X
X
X
Bonita
X
X
X
X
X
X
X
Cobia
X
X
X
Flounder
X
X
X
X
X
X
X
X
X
X
X
X
Red Grouper
X
X
X
X
X
X
X
X
X
X
X
X
Gag Grouper
X
X
X
X
X
X
X
X
X
X
X
X
King Mackerel
X
X
X
X
X
X
Redfish
X
X
X
X
X
X
X
X
X
X
X
X
Red Snapper

Only open 2 weeks a year in summer.... check florida regulations.

Snook
X
X
X
X
X
X
X
Spanish Mackerel
X
X
X
X
X
X
Speckled Trout
X
X
X
X
X
X
X
X
X
X
X
X
Tarpon
X
X
X
X
X
X
Tripletail
X
X
X
X
X
CB's Fishing Charters

"For the experienced to the novice angler"
Call to Book Your Fishing Charter

Our Guides offer exciting Fishing Adventures for anglers of all ages from novice to the expert. We offer Inshore, Backcountry and Offshore fishing charters for both fly-fishing and spin anglers.

Sarasota and her surrounding areas have much to offer as an estuary for some of the most targeted gamefish species in the world. Those species include tarpon from mid May–July, Snook, and Trout and Redfish (to name a few) that are found in and around the Sarasota & Charlotte Harbor area waters year round.

If you are looking for fun on the gulf coast of Florida, at CB's Saltwater Outfitters on Siesta Key, Sarasota Florida you'll find everything you're looking for. From fishing tackle, to sunglasses & flip flops, or a day out on the water.

Stop by today or give us a call to book your Boat Rental, or Fishing Charter.


Inshore Sarasota Bay Fishing

(4) hours $400.00
(6) hours $600.00

(for 1 to 3 anglers + $50 for 4th)

Gulf and Reef


(up to 9 miles)

(4) Hours $500.00
(6) hours $750.00

Tarpon Fishing


(Mid-May thru July)

(6) Hours $700.00

(for 1 to 3 anglers + $50 for 4th)

The clear blue-green waters of the Gulf of Mexico offer sight-fishing for tarpon at its best from May through mid-July. Tarpon of 120 pounds or more jumped daily during the season on fly, plug and spin tackle. Even though the water ranges from 12 to 25 feet in depth, many of the fish are encountered on the surface or just below. Tarpon fishing charters are limited to two anglers per trip.

Night Snook Fishing


(for 1-2 anglers + $50 for 3rd)

(4) Hours $500.00

A portion of the intercoastal waterway between Sarasota and Venice that many claim has one of the largest populations of snook found anywhere in the state. Most of the snook fishing takes place at night around lighted docks. Literally dozens of snook will cruise around the structures and feed on bait that is attracted by the lights. Its night sight fishing that can be fast, furious and fun! Redfish and speckled trout also are encountered on these trips.

Charlotte Harbor

(for up to 2 anglers + $50 for 3rd)

(6) Hours $570.00
(8) Hours $900.00

Instructional Fly-Fishing

Put the casting skills you have learned to use on the water. This will give you an opportunity to deal with fishing situations from the deck of a boat or by wading. Learn how to cast under mangroves and docks and how wind and current affect different fishing situations. You may have an opportunity to practice sight fishing, which is one of the most rewarding forms of fly-fishing.

Instructional Fly-Fishing Trip

(4 hours) $400.00

Fly-Casting Instructions

Private Instructions

$75.00 per person/per hour


2-hr minimum for the initial session. Limited availability, usually a weekend morning when not guiding that day.

Offshore Gulf


Call For Information

What You Need to Bring

Fishing hat, sunscreen, polarized sunglasses Boat shoes or sneakers with light color soles.

(no black-soles please)

Clothing: Cool comfortable clothing in the warm months, (light jackets are sometimes needed on summer mornings); jackets, rain gear, sweaters, sweatshirts, long pants during winter. THINK LAYERS.

Food, snacks, drinks, and Camera (to capture that Kodak moment)

All items available at CB's Outfitters
Open 7 a.m. to 6 p.m. daily

What We Provide

Professional Guide
All fishing tackle
Saltwater fishing license
(You're covered under our guides license)
Ice cooler

We do ask for a credit card number (Visa, MasterCard or Discover) to confirm and have a 2 week cancellation notice required *policy unless extreme weather (the guide will make the call on the weather).

Confirmed Tarpon Trips have a one month cancellation policy.

Area Tides Links

Sarasota →
Venice →
Port Charlotte/ Boca Grande →
Local Weather Forecast →

For further Info contact us →